Chevrolet Truck Legends: A Tribute to Chevy's Pickup Legacy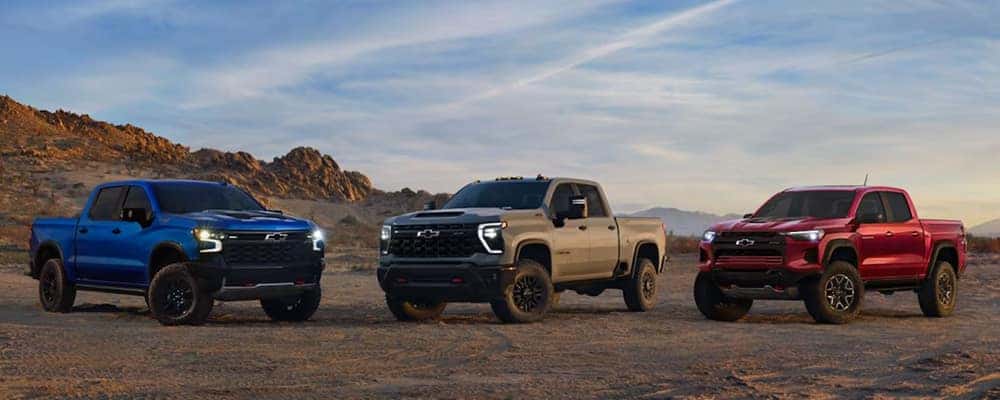 Over the years, Chevy has released a number of legendary pickup trucks. While some models were designed to deliver a thrilling performance on the street, others were made to handle an epic off-road adventure. Here are just a few of the most memorable Chevy trucks in history.
1991 Chevrolet 454 SS
The Chevrolet 454 SS was the true definition of a muscle truck. Although this model was based on the regular Silverado, it was engineered to deliver a more thrilling driving experience. Under the hood rested a massive 454 cubic inch V8 engine. Chevy rated it to kick out 255 horsepower and a stout 405 lb-ft of torque. You could definitely feel the power when accelerating. Meanwhile, a heavy-duty suspension helped enhance handling.
This pickup's aggressive appearance also won over a lot of truck enthusiasts. Its black paint job and blacked-out grille made a serious statement. Unique '454 SS' graphics further set apart this exclusive model.
2017 Chevrolet Colorado ZR2
Regarding off-road prowess, the 2017 Chevrolet Colorado ZR2 remains one of the most capable pickups ever to hit the market. It was purposely built to dominate the most challenging off-road trails. To aid the Colorado ZR2's ability to handle rough terrain, Chevy equipped it with special Multimatic DSSV shocks and a factory 2.0-inch lift kit. Front and rear electronic locking differentials also aided the pickup's ability to churn through the mud.
Motivation came from a formidable V6 engine, which developed more than 300 horsepower. This means you can climb steep hills with ease. Because the Colorado ZR2 was so reliable, it was more than worthy of a long road trip.
1973 Chevrolet C/K
If you love classic trucks, the 1973 Chevrolet C/K definitely deserves your attention. Even today, this pickup's 'Square Body' design looks amazing. Many drivers especially appreciated the C/K's practicality.
While the C/K had the ability to turn heads, it was still a highly functional truck. Models equipped with a 4WD system had no trouble venturing off the beaten path. Of the C/K's available engines, its V8 powertrain tends to be more popular.
1947 Chevrolet 3100
Although the original Chevrolet 3100 is now more than 60 years old, it still has a certain coolness factor. When this old-school pickup was first released, drivers praised its sleek and modern styling.
Attractive features like an in-dash radio and a heater made the Chevy 3100 even more appealing. Furthermore, up to three people could fit inside.
Call Us Today
If you would like to learn more about Chevrolet's latest pickup trucks, please contact us today at Athens Chevy.